Diving into Success
Recap of the Richwoods' swim team and a spotlight on Molly Gordon
Molly Gordon is officially the most successful female diver in Richwoods High School's history. Going into her senior season there was high hopes for Molly, she was coming off of last year's season winning 8 of 10 meets, being the sectional champion, and breaking the pool 6-dive record at Richwoods. Though faced with the pressure of her previous successes Molly Gordon did not disappoint this year. At the sectional meet on November 6, at United Township High, Molly Gordon broke her personal 11 dive record and the pool's 11 dive record with a score of 438.30. This score won her the meet for her second consecutive sectional title. In this same sectional meet another Richwoods' senior diver, Nora Laughlin, placed 4th. The next week on November 12, Molly competed in the State final meet and she ended her high school career 30th in the state. Of the Richwoods top 20 all time divers, Molly Gordon is #1 in both 6 and 11 dives. Gordon also recently received, "Journal Star Athlete of the Week," beating out other standout athletes from the Peoria area. She had an incredible season and set the bar high for many future Richwoods' divers.
The girls swim team also did very well this year, with many wins and fantastic races. The team agreed with that statement and senior captain Nethmi Boperarchy said, "In the past years everyone had different goals, but this year we all worked towards one goal and motivated each other to do better so this season felt more successful." The team won many meets and there were many individuals and relays that won and placed in meets over the course of the whole season. As a team they placed fourth in the Rock Island Invite. In the sectional meet at United Township High, Jenna Silaggi placed 6th in the 50 Freestyle and the 200 Freestyle relay also placed 6th. Nethmi also added that, "the best part of the season was when we won the meet against Notre Dame." This was their final dual meet of the season and it was the first time that the Richwoods girls swim team beat Peoria Notre Dame in a meet in 10 years. They beat PND with a final score of 103-82. Overall, the team had a great season and achieved many great things and there are many more to come!
Leave a Comment
About the Contributor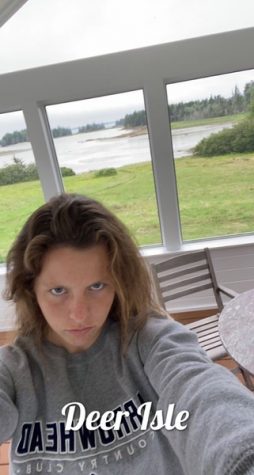 Maggie Urich, Sports Writer
Maggie is a junior at Richwoods and is a writer for the sports section of the Shield. At Richwoods Maggie also participates in soccer, golf, and is co-president...