Richwoods Basketball
The Richwoods varsity boys' basketball team started their basketball season with wins against Rockford Boylan, St. Charles North, Chicago Marshall, and Freeport. The Knights participated in the annual Rockford Boylan Thanksgiving Tournament over Thanksgiving Break and ended the tournament in first place. Senior point guard, Marquel Newsome ran the court by scoring 27 points against St. Charles North and scoring double figures in the other three games. Newsome is also nominated for athlete of the week by Journal Star. Coach Smith expressed great pride in winning this tournament and said that this was one of their bigger goals this season. He stated, "These wins give us a sense that we are moving in the right direction." 
On November 29, The Knights started their official season against their rivals, Peoria Notre Dame. At a riveting start to the season, both JV and Varsity won their games, with varsity's official score of 40-57. The Varsity team started the game with three 3-pointers from Tavie Smith and kept high levels of intensity throughout the entire game. Smith, a junior point guard, stated that going into the game he had no intentions of hitting three 3's but it gave them energy and excitement to keep the pace up. "Winning that game made me feel like if we keep up this same energy and confidence, we will go far as a team," he said.
It's no surprise that the Notre Dame gym was packed with both Richwoods and PND students. Even Coach Smith said that both the players, as well as the fans, feed into this rivalry. He said, "It's always a wonderful atmosphere. Our fans pack the gym, and their fans pack the gym, it is as much a fan competition as a basketball game competition." These two teams will face each other for a second time on February 14th and hopefully, Richwoods will come out on top once again.
With an exciting start to the season, the Knights have just begun. Coach Smith expects his players to play every game as hard as they can to give the fans a reason to cheer and be proud of Richwoods High School. Like Tavie Smith said, "The goal is to go all the way and finish this job we have started."
Leave a Comment
About the Contributor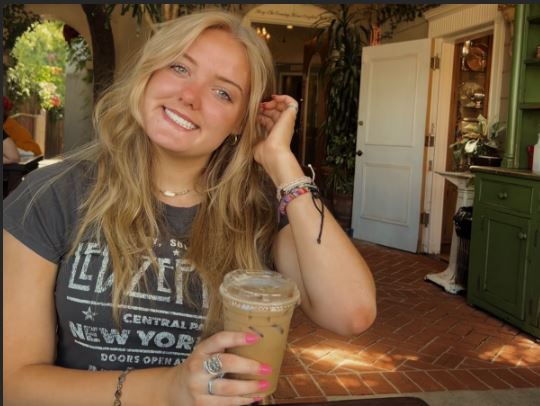 Andi Potts, Sports Editor
Andi Potts is a junior at Richwoods Highschool. She is a junior in the IB program, Friendship club, RHS soccer and French Club. She enjoys reading, listening...