Richwood's Athletes Pursue Excellence in Higher Education
The college that a high school student decides to go to will often determine the course of their life. This is especially important for athletes who have a promising chance of going professional after they graduate. At Richwoods, the support of coaches and teammates could help decide where they go. Varsity athlete and graduating senior, Mckenna Shilevinatz, will be continuing her athletic career at St. Ambrose next year. Shilevinatz, a fantastic soccer player and an exciting person to watch, believes that her experience in the Richwoods Soccer program helped her become a better player. The pre-season training opportunities further motivated her and gave her the mindset, "I want this, so I've got to work for it." This ties into Coach Eisfelder's motto FDCW, which stands for, "Focus, Discipline, Commitment, and Will." This type of motivation encouraged her to work harder. 
Shilevinatz's ultimate decision to play at St. Ambrose was easy. She said, "The community at Ambrose and all the people I met really made a difference." This decision was also influenced by her fellow Richwoods teammates. When she was still deciding on what college to play for, she said, "I'd talk pros and cons with them, and they would talk through it with me, which was really helpful." She adds, "They've been supportive, and they've always had my back, which I really appreciate."
Golf all-star and outstanding player Crayton Hardin recently made the decision to play golf at Augustana College. Hardin played with the Richwoods Golf team all four years of high school. On the first hole of his career, he scored a ten. Four years later on his last hole of senior year, he made a birdie 3. Hardin exemplifies Richwoods Sports' dedication to improvement. 
Hardin's coaches and teammates helped guide him through his decision to play golf in college. Hardin stated that "Coach Hogan helped by reaching out to coaches and making a case for me on their teams." His teammates were also aware of his ambitions to play in college and provided "extreme support throughout the season."
Hardin was inspired by his love of Augustana's "great environment" and team chemistry. Augustana is a small, private, liberal arts college in Rock Island, Illinois. Another reason Hardin chose this college was that it, "Prioritizes student-athletes, so I felt I was set up to be successful both academically and athletically."
The chance to play a high school sport is a once-in-a-lifetime experience and to play in college is a great achievement. The motivation and will of Shilevinatz and Hardin coincide with The Standard of Excellence motto. Additionally, there are other student-athletes at Richwoods who will be pursuing athletics in college. Some of the others include Caleb Lott, who will play baseball at Sauk Valley Community College, and Logan Romero who will play soccer at Eureka College. Jordyn Williams will join Mckenna at St. Ambrose University to play soccer. Dakota Fulkerson will play soccer at Purdue Northwest University. Among Richwoods' Volleyball Team, Dejah Foster will play at Harris-Stowe State University and Leslie Longanbach will play at Maryville University.
These players are an example of the success that is achieved when one stays determined, perseveres, and accepts help from their coaches and teammates. Wherever our Knights go, we will always be proud of them and wish the best for their future.
Leave a Comment
About the Contributor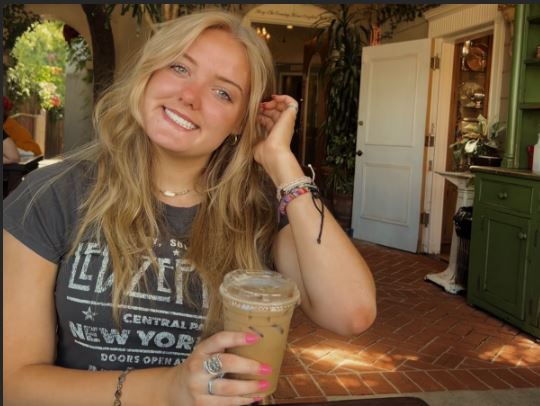 Andi Potts, Sports Editor
Andi Potts is a junior at Richwoods Highschool. She is a junior in the IB program, Friendship club, RHS soccer and French Club. She enjoys reading, listening...