Mr. Crusen is back at Richwoods!
Mr. Crusen is our new assistant principal for the Sophomore class! Before obtaining his position to positively influence RHS students, he was a hard-working teacher and coach for ten years. When asked specifically about what further drives him in his education position, Mr. Crusen stated, "I feel like… I have the opportunity to interact and hopefully positively impact more students than I would have if I just continued to teach and coach."
When asked about his prior education and why he rightfully chose a position at RHS, Mr. Crusen stated, "I've loved Richwoods since I started walking the halls back in 2004." Mr. Crusen is indeed a proud Richwoods 2008 graduate and knight for life! When asked about his notable experiences, Mr. Crusen stated that he was a part of the baseball team his senior year, and that they were, "arguably one of the best teams," that season as his team absolutely crushed the regional tournament with a 1st place finish. When asked about his college experience, he noted more of his engaging time with sports. On his four years at Monmouth college he remarked, "There was no athletic money, you played because you really wanted to," a statement which surely resonates with Mr. Crusen's determined character. After having wrongfully assumed that medical school was his best choice, Mr. Crusen thought that he would love to coach and was strongly encouraged by beloved former science teacher Dave Webb, who even offered the advice necessary for Mr. Crusen to make his next wonderful mark at the castle with his new position. After obtaining his bachelor's degree, he would take a gap in his education until his time before coming to Richwoods, where he persevered in obtaining a remarkable master's degree in the Science of Educational Leadership with an outstanding Principal Endorsement through his hard work and dedication.
He spent his first year in the education field as a teacher's aide at Peoria Academy where he first met his loving wife, to whom he has been happily married since 2017. Mr. Crusen fondly reminisced, "We got engaged during the World Series on Halloween…My wife will never forgive me for that." Mr. Crusen is a very proud father to his young son Carter, who is now two years old.
He glady taught for nine more years after leaving Peoria Academy, six of which were at Dunlap high school. He noted his plentiful experience with coaching both basketball and baseball, expertly teaching social studies, and even more.
When asked about his values as an administrator, Mr. Crusen began by clarifying that he cared for and raised two boys from the foster care system for two years prior to having his son, which opened his eyes to the awful racism and treatment of some students, and then stated that, "Seeing them get treated differently than with other students in the school that I worked in opened my eyes…It made me a better teacher. In my current position I try to be equitable, open, and understanding to what you guys go through as students and what you guys go through outside of school that not everyone may know entirely about."
When further asked about his goals, Mr. Crusen said, "I love being at Richwoods, I don't know what's next. I'm still learning. One thing I'll say about that is that we have a really good admin team!" He continued by saying that he's thankfully learned so much from them here at RHS.
Some final facts Mr. Crusen would love to share are that he completes the St. Jude Memphis to Peoria Run every year. He has had students that were St. Jude patients in the past who have thankfully recovered so he is proud to support the cause. He is a Cubs fan and even has a dog named Javi. He will always miss coaching the most, yet he is happy to be able to jump in with social studies teachers when he has the chance. Overall, we know that he will continue to be a remarkable standard of excellence for the welcoming students of RHS!
Leave a Comment
About the Contributor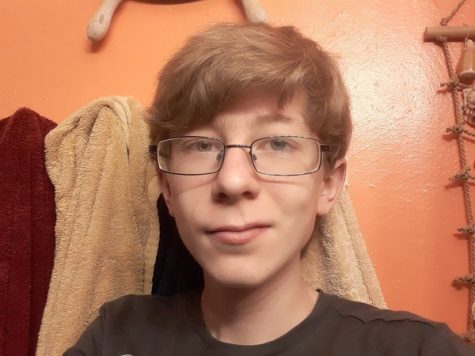 Andrew Lee, Entertainment Writer
Andrew is currently a Junior at RHS. Along with writing for the Shield they are apart of French club and aims to gain more involvement within the community.