The Rise of BookTok and Bookstagram
If you are an avid reader like me, you've probably found yourself in a constant loop between BookTok and Bookstagram-scrolling through countless book recommendations, fangirling over fictional characters, and laughing at silly reenactments of certain scenes from books. If you're new to these two things and are confused, don't worry, you'll understand soon. Booktok fully became what it is today during the Covid-19 pandemic when many people fell into TikTok for comfort amidst the world's chaos. All of us teenagers probably have used TikTok at some point and many of us have Instagram to keep up with our friends. Thanks to TikTok, many of us, who wanted to share our love for books realized that this platform would give us the chance to do so! Now for Bookstagram. What is Bookstagram? Us readers also made a little space for us to share our content on Instagram. Both acronyms are a must in a bookworm's radar.
From fiction, memoirs, nonfiction, to poetry, the content that is shared in both platforms has gained thousands upon thousands of followers over the recent months. These two platforms have allowed creators to share about their current reads, favorite authors, and bookish moments. For us readers, however, they have become platforms where we can learn about new books and keep feeding our book addiction.
Both platforms have skyrocketed book sales, thrown rising authors into the spotlight, and reimagined what a modern book reader may be interested in. Colleen Hoover is one of the best examples of this, although she has been an author since 2011, TikTok helped her reach the top and is responsible for the enormous growth of her book sales, especially it Ends with Us. Thanks to the love and support, TikTok drove her to write a sequel seven years later. The book industry has also been positively affected as TikTok was responsible for helping drive up sales, causing the sale of over 800 million print books in 2021 (more than in any year since records began in 2004). Books like Song of Achilles, Six of Crows, A Court of Thorns and Roses, Seven Husbands of Evelyn Hugo, These Violent Delights, All Rhodes Lead Here, and The Love Hypothesis, are just a few of the books that have transformed BookTok and fellow readers.
If you enjoy reading, and don't know where to start, TikTok and Instagram may just be your best bet. Each book fandom has definitely made their own space in these platforms, so whatever it is you like to read about, you are sure to find a space for it. We are in the age of social media and thanks to this we are able to explore new hobbies and find a community that fits who we are. Being a fellow bookworm has never looked like this, but thanks to these platforms, we get to redefine how our hobbies look like. While social media can be understandably overwhelming, do not worry! The Shield will also be a place where you can read about book recommendations and Author Spotlights to get you started on reading!
Leave a Comment
About the Contributor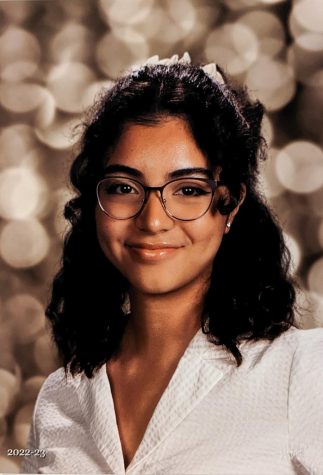 Fatima Salinas, Entertainment Writer
Fatima is currently an IB senior. She loves reading and writing. She is also a part of Interact, Spanish Club, and Book Club.