Teacher Feature – Miss Kimpan
Richwoods has quite a few new faces for the 2022-2023 school year. Among the many new staff members of Richwoods High school this year is Miss Kimpan, who teaches Economics, AP World History, and Black History 365 in room 402. After double majoring in Secondary History Education and Secondary Social Studies Education at Bradley University, and obtaining an English Second Language endorsement, Miss Kimpan decided that Richwoods was the perfect fit for her new career as a teacher.
During her studies at Bradley, Miss Kimpan had many placements at Richwoods: she was a novice, teaching under Mr. Speiden (one of the former AP World History teachers), and later became a student teacher. At this time, Miss Kimpan reports having "really liked the school environment", which is a big reason for her to come back and teach. Miss Kimpan said that one of the things that she likes most about Richwoods is "the school spirit" among our students.
Miss Kimpan has known she has wanted to be a teacher since her childhood, but some of the teachers she had in the past confirmed her decision to become one. Her favorite subject in high school was history, which is the subject she teaches here at Richwoods. Miss Kimpan said that if she weren't teaching social studies classes, she would be a math teacher because she was always a good math student. She describes her teaching method as very "group-work-focused" and believes this method helps her students with understanding the material. Here at Richwoods, Miss Kimpan often helps with merit hall after school and is also the assistant girl's tennis coach. As a high school student, she played basketball, track, and weightlifting during her time in high school. One fun fact about Miss Kimpan is that her favorite place to eat in Peoria is One World Café.
The Richwoods High School community is glad to have her as a new addition to our teaching staff and wishes her luck during her first year as a teacher!
Leave a Comment
About the Contributor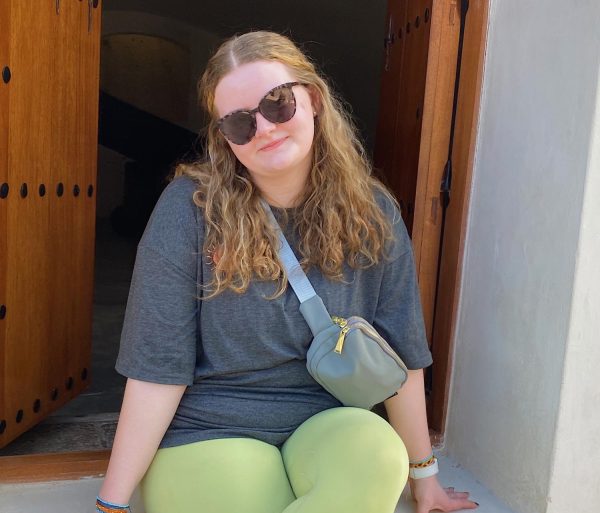 Kamryn Ragains, Editor in Chief
Kamryn is a senior in the IB programme at Richwoods. She a Co-Editor-in-Chief of the Richwoods Shield Newspaper and enjoys baking, reading, and spending...