The Robin Hood of the Art World: Banksy
A new light in the art community
Banksy is a worldwide wanted outlaw, while simultaneously an Oscar nominee, millionaire, philanthropist, and leader of the counterculture movement within the art industry. Through their media, they slam modern society which is driven by capitalism, greed, corrupt politicians, and war. Coining themselves with the term "Quality vandal." Banksy is a prominent anonymous street artist, allegedly from Britain, focused on surfacing the flaws within the art industry and unearthing issues grounded in government, social climates, and environmental atmospheres. Banksy is known to be one of the most clever and creative minds in the art world. However, no one is sure of Banksy's identity despite him being known to spray paint in broad daylight. While Banksy's identity remains unknown to the public, their artwork and the ideals have been made known on an international stage.
Banksy has created numerous stunts and graffiti in every corner of the world that stir up the art industry, but a few have mixed the pots more than the others. Lots of Banksy's works and demonstrations criticize the commercialization of art and how the market streamlines access of impactful art pieces by the rich. Banksy portrayed this idea by transforming a picture into a conceptual moment in October 2018 at a London auction. The auctioneers were selling a copy of "The Girl with Balloon," originally painted by Banksy in 2002 on the Waterloo bridge and the side of a local printing shop. In 2018, this copy sold for 1.4 million dollars at the Sotheby Auction House. What the anonymous buyer and other possible purchasers did not know, is that Banksy installed a paper shredder into the frame. At the exact moment that the picture was sold for 1.4 million, "The Girl with Balloon" passed halfway through the shredder and was torn into small strips. "It appears we just got Banksy-ed," said Alex Branczik, an art coordinator of the Sotheby House. This demonstration was one of many acts of defiance against the modern art economy. Continuing this theme, in 2013, Banksy organized a local booth to sell his art in Central Park, NY. Banksy hired an elderly man to sell his pieces for 60 dollars a pop; in contrast, these pieces are estimated to be worth approximately 140,000 dollars. Furthermore, Banksy wanted the people of New York to appreciate him and have access to his art, regardless of the price tag.
Banksy's works also push many other ideas including refugee rights, corrupt politics, and environmental issues. His highest auctioned piece, "Devolved Parliament," was sold for over $12 million. This oil painting portrayed the British House of Commons members replaced with chimpanzees and orangutans, displaying Banksy's satirical opinions regarding the British government.
Banksy has undertaken many other projects that showcase his creative genius and how he is not afraid to swim against the current. Banksy came together with 58 other artists to create a hybrid between an art exhibit and a dystopian theme park in 2015. Banksy funded the pop-up theme park which was open for 36 days. This park was a blend of terrifying theme park rides, impassive coworkers, and politically motivated murals and artwork. Banksy characterized his creation as a, "family theme park unsuitable for children." This experience was offered to the public for three dollars per ticket, aligning with Banksy's ideals for everyone to be able to afford art. The park received more than 150,000 visitors. Once they closed the park, Banksy transformed it into a refugee camp.
Banksy's artwork and creative genius have inspired artists and thinkers around the world. His influence is so expansive that this mystery artist was named one of Time Magazine's most influential people with the likes of Barack Obama. Banksy's artwork and graffiti push barriers through his methods of creative activity. He "vandalizes" so all people can glimpse art in their daily lives, and Banksy inspires people to diverge from normal society by pushing positive ideals through their craftsmanship.
Leave a Comment
About the Contributors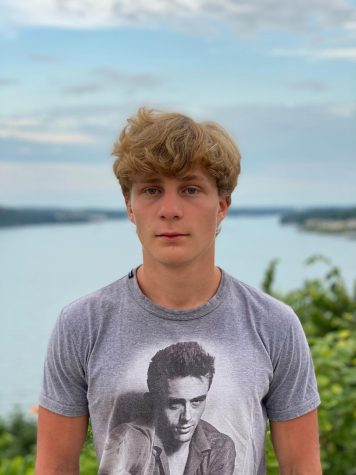 Cameron Williams, Entertainment Editor
Cameron is a junior student in the IB program. Cameron is president of the junior class and is the Executive Officer of the Richwoods MCJROTC.