Homecoming Preparations
The Homecoming Dance is an important tradition in many schools throughout the country. In fact, it's one of the few things about high school that most adults remember. It can be a lot to prepare for; picking out your outfit, getting your hair done, finding a group to go with or working up the nerve to ask a date. But in the end, all the preparation is what makes this event so memorable. The people facilitating this event are a big part of making the Homecoming Dance a night that students remember. Richwoods Student Council has done a fantastic job planning the dance in years past and has succeeded in planning a fun night this year as well! 
This year's homecoming theme was "A Knight in Mt. Olympus," referring to a Greek mythology concept. I talked with student council president, Zariah Franklin, about when they started planning the dance, and she responded with, "We have been talking about homecoming since the end of the '22 school year." She continued saying that all student council members and class officers help with the planning and the setting-up process. Another question that sparked my curiosity is how much the budget is, as money determines how detailed the theme can be. Franklin answered, "Señora Hayes estimated around $2000 but we spend where we need to. This budget includes the DJ, flowers, refreshments, decorations, class murals, as well as hallway decorations." It seems that the student council has done a great job planning this special night. 
In addition to the actual dance, the preparation that goes into the evening excites many students. Students of all grades were asked a few questions about their preparation for the big night. 55% of those asked said they were going with a date. When asked where they'd be taking pictures (as that tends to be a big part of the experience and memories), about 70% of students said they were going to Grand View. Who can blame them, it's beautiful there! Finally, the last question asked was how many people they were going with. Unsurprisingly almost 90% of the interviewees went with more than five people. The more the merrier! 
The Homecoming Dance is a wonderful part of most people's high school experience. It can bring friends closer and lead to many great memories. It's been a couple weeks sense it has passed but according to many students, the student council provided an eventful night. It was filled with upbeat music, authentic decorations, and a not-your-typical photo experience. Many can't wait to see what the student council has in store for prom and next year's homecoming! 
Leave a Comment
About the Contributor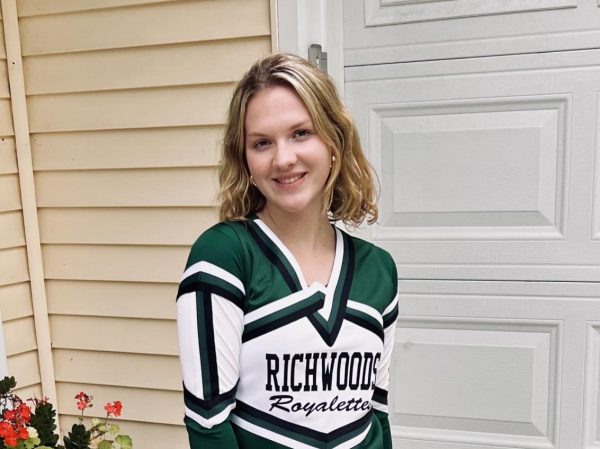 Madison Adler, Junior Editor in Chief
Madison Adler is in 11th grade and a Junior-Editor-in-Chief of the Richwoods Shield Newspaper. She is a dancer on the Richwoods Royalettes Dance Team and...